I decided that I wanted to make something original as I had gotten bored with a slow crawler and I wanted to make something faster. not being able to find used redcat axles anywhere I decided to go a different route.
I had an old losi micro highroller kicking around and I figured I'd see what I could make happen.
I found this model:
https://www.amazon.com/exec/obidos/A...A/rocketfin-20
I built the model and spray painted it with that chalkboard paint to give it an old beater truck kind of look. The decals don't stay on that well but that kind of fits with the beater look. I then divided the highroller in half. I drilled two holes in the bed of the model and put the body posts through those and held them in with body clips. Then I used double sided tape to attach the wheely bar to the back bumper. after checking for correct wheel base I epoxied the main chassis part of the highroller to the bottom of the cab of the model. after that I dremmelled out the wheel wells to fit the big tires I made. I then epoxied some leftover chrome shafts from the model's parts tree to bridge the gap between the main chassis and rear end of the highroller for stability. I touched this up with chrome paint. it looks mostly alright I think.
For the wheels I glued the tires from a 1/24 redcat sumo (not the crawler) onto the stock wheels from the highroller. to power it all I'm using a 2s lipo hooked up to a 10a esc from hobbyking and a 5300kv brushless motor. oh yeah, I also grabbed a 59t spur gear that's normally used for the trekker and used crazy glue and heat shrink to reduce the inner circle until it sat in the micro highroller slipper clutch assembly properly. I put a brass 12t pinion on the brushless motor.
it's pretty quick and has a decent amount of torque but I've only been able to test it in my parking garage so far since we just had a big snow storm. anyways, thanks for reading my novel. now, pictures!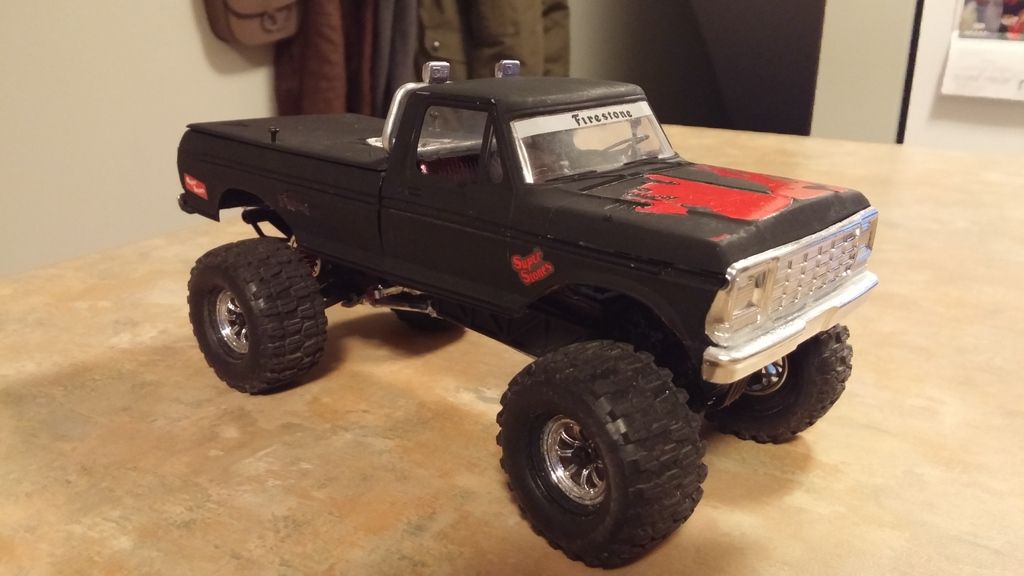 I'm having trouble with photobucket posting pictures so you can see the rest on my other post here:
http://www.rccrawler.com/forum/micro-sc ... lorer.html
http://www.rccrawler.com/forum/#